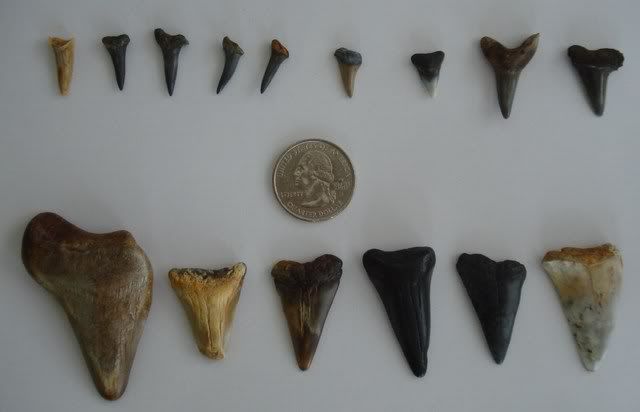 I am starting this blog to record my trips looking for fossils here in eastern North Carolina. I caught the fever while living in Greenville, N.C. last year and having a friend introduce me to Green Mill Run. My daughter and I made several trips to the creek and had lots of fun sifting for shark teeth and other fossils.
I recently moved to the Jacksonville, N.C. area and had read about the nearby Onslow Quarry and decided to pay it a visit. The upside was that it was really close, the downside is that I would have to hunt without my daughter who is too young for the dangerous open pit limestone quarry.
I went early today to check it out despite the 100 degree heat and found that it is a great place to fossil hunt. The staff at the quarry is extremely nice and helpful and there were several other people who were also hunting today that were friendly as well.
It started out slow but once I figured out where to look and what to look for I started finding more. While I didn't find any knock your socks off teeth, I did find some nice, interesting, and colorful teeth. In GMR all you mainly find are solid black teeth. At the quarry as you can see I found black, white, and even red teeth! I think it was a successful trip for only an hour and a half of hunting and for the first time in the quarry. I know there are great teeth there because I saw another hunter who had pulled out what looked like an almost perfect 5 inch megladon tooth!
I talked with another hunter as I was leaving that is very familiar with the area and he believes that the quarry is the best area in the world for hunting
Carcharocles auriculatus
or "ricks", which are the ancestor of the megaldon. I did manage to find one worn beat up "rick" that definitely makes me ready to go back and look for a perfect one. I also found several larger makos.
I plan on going back to post some of my GMR results from last year and posting any results from this year. Please realize I am an extreme novice and nothing on this blog should be taken with any scientific accuracy in mind. I would actually appreciate any input on identification and any tips from more veteran collectors.